Destination Guide
Discover the Best Things to Do & See in Georgetown
Washington, D.C. is a city unlike any other – and Georgetown University Hotel and Conference Center places many of the area's best things to do, see and experience right at your fingertips. Shop and dine in Dupont Circle, wander by the monuments on the National Mall, tour the city's famed museums or catch a performance at the Kennedy Center. However you choose to spend your day, you'll look forward to returning to Georgetown and relaxing at our hotel on the university campus, or experiencing the historic charm and upscale boutiques that surround us.
We've listed some of our favorite attractions and things to do below. Let us know if you'd like more information.
Aramark - Georgetown University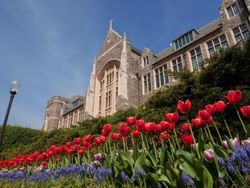 Georgetown University Hotel and Conference Center is an elegant hotel with meeting rooms on the beautiful campus of Georgetown University.
C&O Canal
Bike, run, or stroll down the paths lining the beautiful Chesapeake & Ohio Canal.
Georgetown Waterfront Park
Georgetown Waterfront Park is a scenic urban park that stretches along the Potomac waterfront, with a selection of shops and restaurants, many boasting amazing views.
Dumbarton Oaks Gardens
Dumbarton House is a historic house museum owned by The National Society of The Colonial Dames of America. With an eclectic collection of furniture, paintings, and ceramics, visitors learn about what life was like in Washington during the early 19th century.
French Embassy Events
Enjoy all things French at the French Embassy located across the street from the hotel on Reservoir Road. There are special events, movies and tours commemorating France's culture and history.
John F. Kennedy Center for the Performing Arts
Washington, D.C.'s preeminent performing arts center includes several venues, including an opera house. It offers a full calendar of events ranging from theater and dance to music of all genres and multimedia performances for families.
Lincoln Memorial
Located within the city's Tidal Basin, which is also home to the Roosevelt and Martin Luther King, Jr. Memorials, the Lincoln Memorial is dedicated to Abraham Lincoln, the country's 16th President. It's one of the most photographed landmarks in D.C.
White House
Presidents have called the White House home for over 200 years, and millions of tourists flock to Washington annually to catch a glimpse of it. An incredible 55,000 square feet in size, it features six floors and 132 rooms, as well as a Visitor's Center, which is open daily.
National Gallery of Art
The National Gallery of Art is one of the world's most renowned art museums and is free of charge to visitors. Comprised of two buildings, the NGA features an immense collection of works by European and American artists spanning from the Middle Ages to the present day. The adjoining Sculpture Garden displays an array of works by various artists; stop by on Fridays to hear live jazz during the summer months.